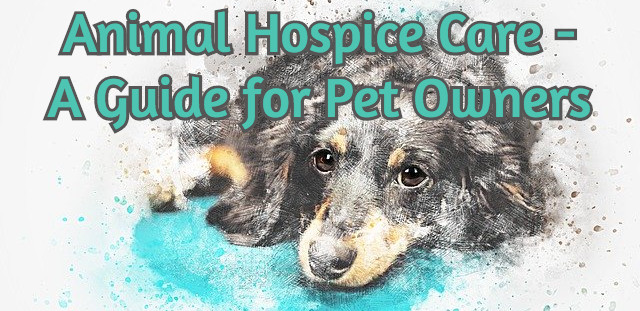 Although more developed in the USA and Canada, palliative animal hospice care is starting to become a specialty in the UK with more and more vets and nurses training for the time when pets will need care and attention at the end of their lives.
There is a difference between care given in a hospice environment/home to that given in normal day-to-day pet care routines. Day-to-day will include regular veterinary check-ups and ongoing assessment, together with medications for illness/issues the pet may have, whereas animal hospice care can be provided when it is clear an animal is close to the end of their life and medications will do nothing more to help, other than to relief pain.
Animal hospice care is not about looking for a cure but instead is caring for that animal, making sure he is happy and comfortable with sufficient pain management until death, providing relief against the symptoms of illness at any stage.
Palliative Therapy
Assessments of pain and wellbeing, suffering and quality of life are regularly taken and discussed with family members of the animal. Most important is the animal´s "will to live".
Vets are sworn under oath when they qualify and they swear "to provide relief and preventative care to their patients" and "a constant endeavour will be to ensure the welfare of the animals committed to [my] care". Although extremely sad to deal with for a pet´s owners, the vet´s opinion should always be considered in regard to the welfare for that animal concerning end-of-life care. In relation to human hospice care, it is "neither to hasten nor postpone death".
The goal should always be to improve the quality of life for the animal. If quality of life cannot be sustained, then the animal may die in peace in their own home surrounded by their loving family. The focus must always be on providing relief and the prevention of suffering, monitoring closely for any signs of pain, making sure the animal is drinking enough so as to avoid dehydration and any issues regarding its mobility. All advice will be given compassionately with support and guidance.
Palliative Medicine and Hospice Care, An Issue of Veterinary Clinics of North America: Small Animal Practice, E-Book

Complementary Alternative Veterinary Medicine (CAVM)
Complementary Alternative Veterinary Medicine (CAVM) like acupuncture, chiropractic, thermal, electricity, passive range of motion, massage, the use of omega 3 fatty acids, milk thistle for liver support, as well as a well-balanced homemade diet will always help to reduce anxiety and discomfort.
Palliative care for animals was first seen in the 1970´s and has since grown to become a specialty. Although palliative care does not provide a cure, it will always address a range of physical and emotional suffering which can be experienced by animals receiving end-of-life care.
Personalised Plan
A veterinarian will provide a personalised plan to the owner/family with the following details:
details of the pet´s needs
details of the owner´s needs
education – what the owner should know or learn
emotional support.
A team-approach is essential in keeping terminally-ill and geriatric pets comfortable. This will include the vet and veterinary nurses as well as the owners and other members of the family. They should all be properly instructed in husbandry for weak animals, obtaining basic vital signs – heart and pulse rate – and assessment of body temperature and respiratory rate. Also, assessment of pain levels and stages of organ failure.
Frequent assessment for pain levels and signs of organ failure must be adhered to.

Pharmacological intervention
Even though medication may have been stopped, the occasional use of drugs may be required if the animal is in pain.
Owners will have to maintain high standards of hygiene and husbandry, similar to those needed for an in-patient.
====================================================
The vet healthcare team should remain in close contact with the pet owners during hospice.
====================================================
Pain management will be provided 24/7 so family members will have to take shifts in nursing care. Euthanasia should always be available by contacting the vet in charge at any hour of the day or night. Family dynamics could make the situation worse here depending on the situation as an angry atmosphere in the home will never be the best place for the animal. All family members must agree to play their part taking shifts when necessary, all as one for the animal in need of care.
Daily home visits out of hours by the vet team. This will also give respite to the pet´s owners.
Other ways to provide respite care can be to suggest psychologists/grief counsellors, homeopathic and holistic vets, massage therapists, vet chiropractors, pastoral counsellors, animal chaplains and pet sitters to the owners.
The vet team may decide to train owners on giving drugs to the animal if necessary, although there are currently no set standards on this.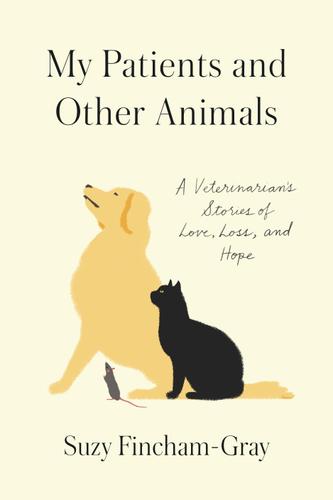 My Patients and Other Animals
from: RedShelf
This is an extremely emotional, anxious and stressful time – owners may not be able to handle giving medical treatment at home so regular visits may be necessary. They may also not be able to understand that euthanasia, at the right time, will be the best option.
They could be told about the many benefits of home euthanasia such as providing a calm, peaceful and familiar environment (no stressful drive or wait in a clinic), all friends and family can be present to say goodbye, the privacy to grieve at home, the procedure can happen in the pet's favourite area (this may be the garden, a favourite sofa or laid on the owners bed with them).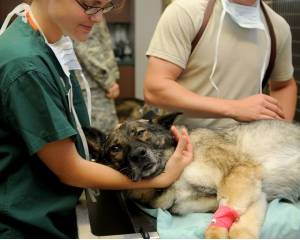 Religious ceremonies can be accommodated and the administration of a sedative to allow the pet to drift off gently to sleep before the final injection. However, they should also be informed of the alternatives to euthanasia such as active dying and natural death. This might depend on the vet´s own opinion and so finding a vet who is in tune with families´ needs is most important. In the case of euthanasia, the vet will always ask for written permission from the owners first.
A veterinarian should inform owners of the after-death options for their pet – what shall become of the animal´s remains whether by natural death or euthanasia. The three main options are burial, cremation and alkaline hydrolysis.
On sadly discovering a pet has died at home, owners may need confirmation of the death by their vet who will obviously check vital signs before pronouncing the death officially.
There should always be an after-hours referral service for emergency care and advice.
Insurance for staff should be considered. Liability and travel coverage is very important, as are the costs of travel to/from the client´s house.
Records of all interactions including visits, patient obs, treatments, telephone conversations and instructions will be properly maintained by the vet team.
The vet team should be prepared to recommend licensed mental health professionals trained in grief and bereavement.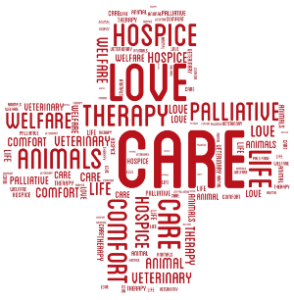 Family members can aid further in the care of their beloved pet by providing an environment where the animal feels safe and happy, where it will have mental stimulation and love and attention as required, based on the animal´s feelings, preferences and experiences.
Hospice and palliative care can become very demanding on the owner/family and compassion fatigue is sometimes recognised.
The owner/family must be informed of the financial and physical demands of hospice care.
Animal Hospice Care – A Guide for Pet Owners
Such a sad, sad situation. Although far from the happiest blog post ever, I felt it was important to provide information regarding this delicate situation so people might be more prepared for the future. It has definitely brought tears to my eyes writing about this whole topic and what it could mean for us. However, as responsible owners, we (everyone) must learn and do what is necessary to keep our loved ones from suffering in their final moments.
Have you had to go through this terrible experience? Is there anything you could recommend to other readers which might alleviate their doubts and pain? Please, let us know what you think in the comments below and I will be sure to respond back to you. Thank you for reading ?