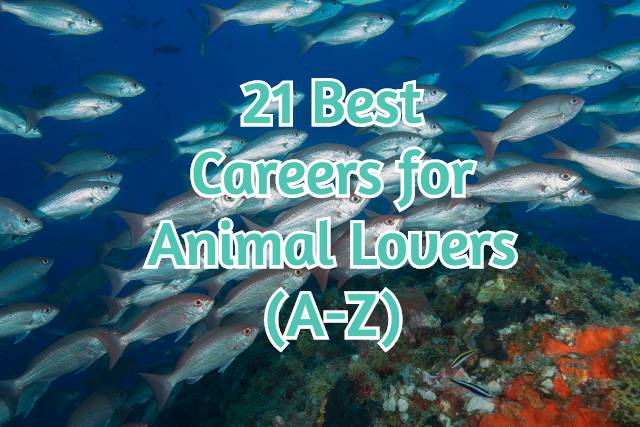 If you've ever felt you were missing something in your life or that what you do every day doesn't provide you with enough fulfilment, then this list of the 21 Best Careers for Animal Lovers (A-Z) will hopefully help you to make a decision which could change your life for the better. You'll also be helping the animals out. 
RELATED POST: Online Animal Courses 
Animal Caretaker
General, good all-round education required.

General welfare and caretaking of animals, be it in a zoo, rescue centre, shelters, clinics or shop etc. 

Be certain their environment is kept clean and hygienic, that they're fed and watered appropriately and on time, and they take regular exercise according to their natural routines and sociability.

Observe any health issues or change in moods and report them as necessary. 

Qualifications depend on the country of practice.
Animal Control (Welfare) Officer
They respond to calls from the public or any service regarding injured animals needing assistance, care, emergency help and rescue.

Follow the laws of their country concerning animal protection and welfare – see related 

post

. 

Transport injured animals who require veterinary attention.

Need to be physically fit as you never know how big or heavy an animal will be that you will have to help that day.

Work with the Police when animal welfare laws are in question or a case of cruelty needs investigation.

Report and record taking, good writing skills required.

Good with people as well as animals.

Work calmly under pressure as you can find yourself in a variety of situations every day – no two days are ever the same.

Qualifications depend on the country of practice.
Animal Nutritionist
Will guide and advise individual owners or organisations about the diet and nutrition of animals and how this affects behaviour and understanding.

Can be self-employed or employed by government bodies or zoos to carry out evaluations and make sure the correct food is given to the animals.

An Animal Science degree is required.
Animal Shelter Manager
Manager of centres where homeless animals are looking for their "forever homes" and they are cared for while they await adoption by the public. 

Management of feeding schedules, watering, exercise and hygiene of the installations is required.

Staff management, rotas, training and volunteer-organisation.

Maintain local council/townhall guidelines. 

No formal qualifications. Experience – professional or volunteer preferred. 
Conservation Land Manager
Working on a fixed area of land, they will manage and protect all wildlife found within its borders.

Sometimes on land found in private property or that owned by local government such as a forest.

Must be able to drive.

A land management qualification is required for this position as well as experience.
Farrier
If an animal has hooves, then a Farrier will be required to trim them, make horseshoes, and resolve any issues with the hoove itself.

Good eyesight and strength are requirements as angles of the hooves are extremely important and must be followed. Then the new shoes must be measured and adjusted for maximum comfort, and so they won't break. 

A farrier will also help an animal if they have a corrective issue and will create support and rectify any damage.

Qualifications are necessary, namely a degree in Equine Science or Farrier Technology.
Horseriding Instructor
Teach students how to ride a horse, and as they develop, they learn more advanced riding skills.

Lesson-planning for each class together with practical exercises to teach.

When not teaching, they commonly help clear out stables and look after the horses in their care.

No formal qualifications are required although many choose to study a Degree in Equine Science.
Marine Biologist
A fascination and wish to study all life under the sea is necessary for this role. Marine Biologists will study all creatures which exist underwater and explore the relationships each has with another, even those relationships with humans and the environment.

Scuba-diving PADI is generally required as standard as research will take place underwater. 

Must be physically fit.

A degree in Marine Biology is necessary, followed by a Masters if you wish to exceed in this profession.
Pet Groomer
A 

pet groomer

 aims to maintain an animal's health and wellbeing (typically dogs or cats but other animals too).

Brushing, detangling, trimming nails and tidying paws. Oral hygiene, expulsing anal glands, washing, checking for skin allergies.

Observation of anything that should not be there, such as fleas or ticks.

Styling, drying – the overall restoration of an animal's coat back to it's a natural, shiny and clean state.

People skills are necessary as customers must be advised as to the best course of action depending on the coat and breed of animal. 

Physically fit – some dogs are hefty to lift onto the table! (Hint! Get an electric-powered table which elevates with the press of a foot pedal!)
Pet Shop Assistant
As with working in any shop, you will undertake stock checks, refill shelves, attend to customers and their questions, and take care of the cash desk.

You will look after the animals, making sure they are fed and watered regularly and that their cages or boxes are periodically cleaned.

You will have knowledge of the animals in the shop, and you'll be able to advise customers regarding the wellbeing and care of these creatures.

You'll be able to recommend food and all types of environmental enrichment and provide advice about potential disease and illness.

You should know which animals can live peacefully with each other to avoid problems at home.

You might specialise in fish, birds or rodents.

No specific qualification required although experience with animals and customer service preferred.
Pet Sitter
Looks after pets when their owners are unable to, be it for holidays or being out at work all day.

They follow the owners' instructions and usually exercise, feed, water, groom, and play with the pets in their absence.

They will clean up after any dirty pets and may even look after the house plants and garden.

Typically self-employed, hours can be sporadic or regular.

Must be trustworthy and reliable.

No special qualifications are required, although a good knowledge of and experience of being around animals is always preferred. Also, both owner and pet groomer should know each other reasonably well beforehand to avoid any "misunderstandings".

Veterinarian
Maybe the apparent choice when someone considers working with animals.

A Vet will treat sick and injured animals in all types of environments such as farms, hospitals, zoos, safari parks, small animal practice clinics, anywhere where there are animals.

They can be requested to attend emergency calls to homes or by the Police to road traffic accidents and the like, or by farmers to sick cows, for example.

They study every facet of animal life and biology so they can make a diagnosis and recommend the best treatment for the wellbeing of the animal.

Not afraid of blood, they will carry out all kinds of surgery and remain calm under stress.

Good with the public, they will have to handle unfortunate news quite frequently, either by 'phone or in person.

Vets are the only qualified professionals permitted by law to end an animal's life if they consider their quality of life to be such that it is in the animal's best interest to end it's suffering.

Can specialise or focus on general practice. Specialisations might be ophthalmology, dermatology, behaviour, surgery, neurology or others. 

In general, it can take around eight years to qualify as a Veterinarian. However, if you decide to specialise, then this can go up to 9: Bachelor's degree 4 years + Veterinary school four years + Specialisation 1 year = 9 years. Best to start young; however, it is never too late!
Veterinary Anaesthetist
After gaining your Veterinarian doctorate, you may wish to specialise in the anesthesiology of animals.

Study and evaluation of which sedation method is best for a particular animal and the quantity to give.

Monitoring and observation of animal during surgery using hospital equipment.
Veterinary Assistant
Assists veterinary clinic staff in the general wellbeing, health and hygiene of the animals in their care.

Make sure all animals are eating and drinking to the best of their level of health at the time.

Clean out cages (many "accidents" happen), keeping an eye on the sick and injured and advising Nurses or Vets if anything changes in the mood or dynamic of the animals.

Keep cupboards and drawers stocked up with equipment, so everything is ready to hand when needed, normally urgently.

Maintain high hygiene standards.

Cuddles time sometimes once all other duties are finished.

Not afraid to get dirty with urine, poo and blood!

Many Veterinary Assistants work towards qualifying as a Veterinary Nurse / Vet Tech. 
Veterinary Dentist
After gaining your Veterinarian doctorate, you may wish to specialise in animals' mouths and teeth.

Perform dental surgeries and hygiene cleaning, as determined by each case.
Veterinary Nurse or Veterinary Technician
VN's or Vet Techs work closely with Veterinarians. 

Health observations of the animals following Veterinarians' diagnosis/instructions and daily routine tasks such as taking temperatures, blood pressure, measuring respiratory rates, weighing animals, giving sedation injections before surgery, general preparation for surgery, stitches, taking X-rays, assisting in surgery, maintaining patient files, taking blood and giving vaccinations, the list goes on.

Can be in a clinic or any setting where there are animals.

These days, in some countries, some Veterinary Nurses are even trained to carry out minor surgeries such as castrations.

Dealing with the general public, giving advice on anything from ideal weights and diets to ID chips or other specialist knowledge they have gained such as dog training or how to hand-rear a kitten.

Teamwork – can be a stressful role.

Plus some or all of the same work as a Veterinary Assistant. 

Lots of study required. An excellent all-round level of education is needed. Some countries require you to have a high school maths qualification as you will have to work out medication doses and other such work, as ordered by the Vets. (Note: In the UK this is undoubtedly true but here in Spain for example, this is not a requirement as the job here isn't considered an "official" role yet, even after many years of various veterinary groups lobbying the government).

Veterinary Nursing qualifications can be gained via apprenticeships (practical work plus college time), or you may choose to earn a university degree in veterinary nursing. In Spain, courses are offered by private companies for which you can gain an award as a Veterinary Technical Assistant (

Auxiliar Tecnico Veterinario or ATV

). 

After qualifying, you may choose a speciality, i.e. surgery or radiology.
Veterinary Sales Representative
Sales in veterinary medications to clinics and hospitals etc. within a designated target sales area. Just like another sales rep role, this job is "on the road" as you visit different sites to inform of new products available and gain sales.

Build up a rapport with (potential) customers – good with people.

Outgoing personality helps.

Frequently, a Business degree or qualifications related to animals is required.
Wildlife Biologist
Just as a Marine Biologist works with animals in the sea, a Wildlife Biologist will study and work with animals on land.

They will study their environments and how different species interact with one another.

Additionally, plant life will be examined and the various forms of wildlife that live amongst it.

They will collect specimens for study and write study reports on their findings.

A degree in Zoology, Wildlife Biology or Ecology is required.
Wildlife Rehabilitation
Rehabilitation of non-domesticated mammals, reptiles and birds. Helping wounded and sick wildlife and looking after them while they recover and get better after having created a nursing plan for them.

Making sure animals are fit and well enough to return to their natural environment and look after themselves. 

Good with the public and will often hold educational sessions to inform people about wildlife specifics and habitats.
Zookeeper
Where animals are sadly kept in zoos, staff are required to look after them and attend to their needs.

Feeding, watering, grooming, cleaning, hygiene, behaviour, health monitoring, environmental enrichment.

Lots of knowledge of particular types of animals if you wish to specialise and then you may be requested to handle questions from the public.

Can be challenging work, early and cold morning shifts in all weathers but the animals come first.

Disease-knowledge – biology is required at degree level.
Zoologist
The study of collections of animals kept in zoos or the natural environment.

Animal behaviour, habits, migratory patterns etc. of fish, amphibians, invertebrates, mammals, birds and reptiles.

Bachelor's Degree required.

Many people make the mistake that by working with animals, they will avoid having to deal with humans, but this is not the case. You have to be good with people as well as animals in the majority of roles. Teamwork plays an important role, especially when dealing with difficult to handle or large animals. 
21 Best Careers for Animal Lovers (A-Z)
I hope you have found this list valuable. When I discover other careers with animals, I will update it as I, myself, am still searching for the perfect role, so I will share with you. Please note that different countries will have various qualification requirements so always check locally.
Thank you for reading. Please read, like, comment and share with your friends and family.