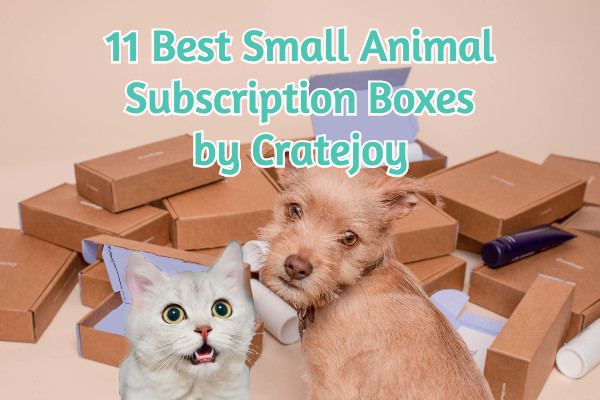 This post contains affiliate links. I might earn a small commission from qualifying purchases at no extra cost to you.
RELATED READING: Affiliate Disclosure
So, it's already September! I cannot believe where 2020 has gone. So much has happened, and is still happening, sadly. The days seem to be flying by. As soon as we know it, it'll be Christmas. To that end, I found these 11 Best Small Animal Subscription Boxes by Cratejoy, and I thought I'd share them with you because they are exciting and fun. They're the perfect gift for birthdays, Christmas, an any-reason present, even for yourself. Perfect because you're giving not just one present but a monthly gift for as long as you want your subscription to last.
Suppose you are passionate about your pets or animals in general – or you know somebody who is – or indeed any hobby or passion whatsoever. In that case, you are bound to find something appealing at Cratejoy.
Cratejoy can provide you with monthly gift boxes containing unique items, artisan products, healthy treats, things you wouldn't usually find in the shops.
The monthly excitement when the parcel is delivered and you get to open it in the company of your furbaby is a great moment of joy for you both and your family, if relevant. It's like Christmas time, but you get a gift once a month!
So, let's have a look (in no particular order), and oh, there's a discount link further down the page!
11. Mystic Pup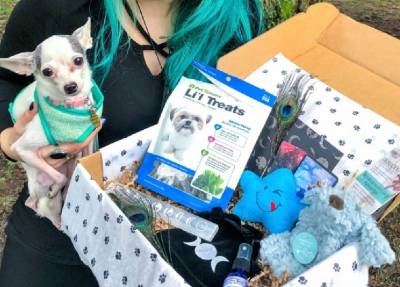 This box is full of positive vibes for any dog mum. Each one combines one natural dog treat, 1-2 dog toys plus 2-3 self-care, spiritual items for you. May consist of:
Aromatherapy oils, tea, jewelry, books, bath/beauty, candles, incense, home decor, snacks, crystals, etc.
Eco-friendly, cruelty-free bath & body products for you
Fun toys and all-natural treats for dogs of all sizes
Large boxes filled with 4-8 unique items
Features some artisan or handcrafted items made exclusively for the box
Subscribe and save more than 50% off retail prices!
The purchase of this box supports POC and women-owned and handicrafts businesses.
10. Feathered Fun Box
This fun box is perfect for your bird companion. Themed packs include toys, snacks, and parrot products carefully selected to bring you and your bird happiness. Also, there are perfect limited-edition keepsakes for any lover of parrots!
You'll receive new items monthly, including toys, snacks, etc
All items are tried and tested for birds
Keep your birds entertained with these healthy products, promoting daily activity
Custom keepsakes included in every box for you, the bird owner!
Perfect gift for parrot and bird lovers!
9. Pug Box
Pugs are so adorable and have discerning taste. So this is a box just for them. Every month, the best fun toys and delicious treats are discovered, and a cool pug themed detail for you. You'll receive new items in every box.
5 – 9 items in every delivery
Delicious treats, toys, and pug-themed items for you
Pug tested and pug parent-approved
Discover entertaining, new toys, and treats with your pugster
Flexible delivery is available! Need to pause for a month? No problem!
8. Cattitude Box

Hello Cat Meowmy! This is the best of the best of cat subscription boxes. It treats you and your cats to top quality, one-of-a-kind novelty pieces every month. Discover artisan-made toys and accessories from independent British makers and designers who only create exclusive designs for this box. They also care for cats in need, donating a portion of profits to cat shelters.
Quirky cat-themed lifestyle/home accessories – the theme changes each month, and subscribers look forward to the experience. The April box was inspired by Alice in wonderland and was sold out within 48 hours. The latest box was inspired by David Bowie (or should that be David Meowie!), which was the most popular box this year!
Discover Independent British Brands & Artists that you might not have come across yet (but should check out!). Good humor and pun – a lot of the items (that are commissioned just for the box) reflect it.
The box is very much by the cat ladies and for the cat ladies. You won't find anything in this box that cannot be given to cats. All the cat food/toys you'll find in the box have paws of approval from 3 pampered puss. You have options to swap cat food/treats for toys if your cat is fussy.
7. Bunny FunBox
The Deluxe Bunny FunBox box offers bunny toys, treats, and bunny-themed presents made just for Bunny Mums.
For Bunny Daddys and families with multiple bunnies, the "For Bunnies Only" box is justified. And the Mini Bunny FunBox is ideal for anyone looking for something a bit more economical.
The Deluxe box contains bunny toys, treats for an active routine, plus inspiring bunny-themed mementos for Bunny Mums!
Every crate includes a different Oxbow Enriched Life toy to encourage exploring, playing, and chewing.
The healthy treats include Oxbow Simple Rewards Baked Treats and their own line of dehydrated fruits and vegetables that bunnies love with no added sugar
Unique bunny-themed gifts produced in house.
Each month, Bunny Fun Box donates a box of toys and healthy treats to different small animal sanctuaries.
6. The Dapper Dog Box
This subscription box sends you a regular pack of healthy treats, gorgeous toys, and an exclusive, limited-edition bandana. Their boxes have an attractive exterior and interior, which makes them perfect gifts for friends and family.
FREE SHIPPING!
Each box includes 5 FULL-SIZE products – including treat bags, toys, and accessories.
They are designed around themes such as Coachella, Southern Charm, Happy Howlidays, etc.
Give the gift of surprise and love to your loved ones with this very memorable present
For every purchase you make, an animal shelter will receive a donation
Fabulous gifts for your favorite canine mum and dad.
5. Wigglebutt Box
This subscription enables you to pamper your pet and support rescue dogs at the same time! Here's what you receive:
6 – 8 items in each box
A mix of toys, treats, accessories, a seasonal bandanna, a roll of poo bags, and a dog-related pressie for mummy or daddy
Your dog's size is accounted for
The use of corn, soy, or wheat is out!
Donation to an animal charity.
4. Bully Bundles
For the dog who has a lot of energy, these bully sticks keep your pup entertained. The sticks are safe, natural, thick, and without the odor of other bully sticks. They offer this $5 bully stick at just $2.50 with free shipping.
Bully sticks are long-lasting
100% digestible dehydrated beef (bull) sticks
Perfect for dogs of all ages, breeds, and sizes
Great for cleaning teeth
They're safe, healthy (one ingredient-beef), long-lasting, and dogs go mad for them!
Sourced from USDA & FDA-approved South American grass-fed, free-ranging cattle
Zero use of hormones, antibiotics, or chemicals
Uniquely consistent in thickness and low smell.
3. Henny+Roo
One of the only subscription boxes for chicken enthusiasts. You'll receive hard-to-find first aid and health products, chicken treats, and coop items for your chickens, and useful chicken-themed gifts for you.
Chicken supplies
Chicken-themed gifts
Chicken treats
Poultry supplies
Perfect gift for a chicken keeper, yourself included!
High-quality supplies for keeping backyard chickens.
2. Crazy Cat Crates
The best products are in this top quality box – artisan-made toys, treats and organically certified catnip produced by small business owners.
Specially produced premium cat toys and treats
Handmade products created by independent makers are a specialty.
Five products in each box, including unique items created exclusively for Crazy Cat Crates.
Unique art print with helpful cat care tips
Donations to cat rescues and animal organizations
Preferential use of items made in the USA.
1. Vegancuts Monthly Beauty Box
Discover incredible vegan/cruelty-free products. Regularly receive 4+ deluxe and full-size beauty products. Skin and body care, from luxurious exfoliating cleaners to nourishing hydrogels, every box is carefully put together by beauty experts to ensure the use of 100% vegan, cruelty-free, paraben-free products. Also free of harmful chemicals.
4+ Deluxe and Full-Size Items each month
$50+ value in every box
Each product is thoroughly vetted to be 100% vegan and cruelty-free.
Every product is paraben-free and contains only non-toxic ingredients
Free U.S. shipping!
There are so many more Cratejoy boxes available for animal lovers, too many to put in one post.
You will find many discounted subscription boxes HERE, and in no time at all, you and your fur baby will be enjoying a lovely box of surprises once a month. Exciting!
11 Best Small Animal Subscription Boxes by Cratejoy
Many boxes are available for international shipping too, so no matter where you live, you can always take advantage and find something to suit you and your fluff-ball.
Thank you for reading. Please read, like, comment, and share with your friends and family.