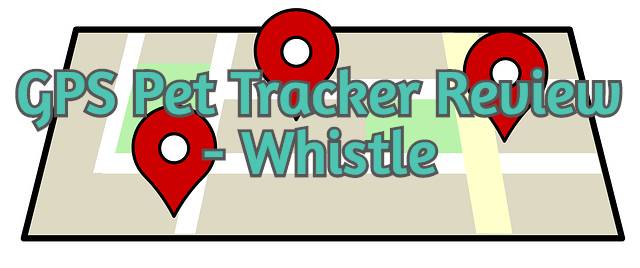 Has your dog every wandered off or escaped over the garden fence? How did it make you feel? That feeling of dread and panic, not knowing where they are or if they have been in an accident or not. Horrible. I hope today you might gain some information to help in these situations in this GPS Pet Tracker Review – Whistle.
Knowing where your dog is all the time is crucial because you don't want them getting into any trouble or danger, and you want to see that they are safe and healthy.
Our pets are like one of the family, and as such, we need to make sure we are responsible and take care of them at every moment of every day.
Their health and welfare are paramount. We are obsessed with our dogs because we love them so much. Maybe you have installed a camera at home so you can check-in occasionally and watch them on your' phone from your office desk (for those not able to work from home at the moment of course). But then you can't watch them all day long, as much as you'd love to. (Wouldn't that be great, get paid just to watch your pet?)
Most dogs wear collars and this is where the idea of a pet tracker might come in mind. A device that can detect how your dog is doing and where he is located.
One day, we will get another dog and I know for a fact that this will be one of the first things I'll buy for her. These days, there's new technology surfacing all the time, so why don't we take advantage of it and make sure our furbabies remain well and happy?
The pet trackers made by Whistle are of the highest quality and their performance is second to none. They have the best brains behind the tech to make this device a necessity for every dog owner. Dogs must weigh over 8lbs (approx. 3.6kgs) for the tracker to work at its best.
Whistle is a GPS geo-locator device that tracks where your pet is using Google Maps and tells you what he's up to. Sitting at work, you might wonder, is he sleeping? Is she scratching? Is she playing? Where is he?
Whistle tracks different activities in real-time so you don't have to. Their health, behaviour and fitness can all be viewed via the reports you can find in the app.
===================================================================
health, fitness, behaviour
===================================================================
The App
The Whistle app is available for iOS and Android, and once you've set up your dog's profile (breed, size, weight, age, etc.), you can start to use the device.
All you do is download the app to your smartphone, choose a subscription plan, then charge and attach the Whistle device to their collar, and off you go for walkies!
Multiple dogs can be monitored in one app, as well as various owners – mummy, daddy and human brothers and sisters plus dogwalkers and anyone who cares for your pup.
You can see who is out with whom and for what duration. One of the most essential things to set is your dog's "safe place" because without this, you won't know if they are safe or not. Usually, your home but could be doggy daycare or your parents' house. You will be notified if they move from this safe place, and their location is updated every 15 seconds.
The app will send alerts of where your dog is located. You can choose to receive alerts by email, text or app notifications. It will also send you reminders for medication, vets or grooming appointments.

High achiever?
Just like human fitness apps, Whistle will assign achievement badges to your dog when he/she meets individual goals – calories burned or distance walked. Although you are already proud of her, give them some extra love when they achieve each badge – what a good girl!
Healthy doggy
While tracking all your dog's activities, the app will also let you know when he's been scratching and to what extent. If he's scratching to an extreme level, the app will advise you to check with your vet and solve the problem.
The same with licking. Licking can be a sign of irritations and allergies so best to get this seen to as soon as possible to avoid any pain and suffering.
The issues behind these behavioural problems are always hard to detect, and the earlier they are seen to, the better. A 30-day report is available and can be emailed to your vet directly from the app, and it gets updated every day.
In the weekly wellness report, you will be able to analyse and see when and if certain activities are affecting your dog positively and negatively. Maybe they have a slower than average activity level that week. You will have more power over their overall state of well-being.
The report is designed in a timeline format so you can see in chronological order the time spent running, sleeping, walking or playing.
Televet
For a limited time, a virtual veterinary service will be free to subscribe to if ever you need to consult with a vet from home. The service is available via the app and they can answer any questions you may have via email, chat or telephone.
Whistle Food Portion Calculator
This feature will analyse your dog's breed, height, weight, age, body condition, food and activity levels and recommend the best daily portion of food for them. This is great because the lifetime of an obese dog can be reduced by 2.5 years, and we want our beloved animals to live a long and happy life, don't we? Best to always double-check with a vet though, in the first instance, I would say.
===================================================================
"Imagine how useful it would be if our dogs could tell us that they're
developing a skin issue, or that they feel sick, or that they're in pain."
===================================================================
How does it work?
The folks at Whistle have pioneered the "Pet Insight Project" study where they have collected health data from many sources. Via their technical algorithm-thingy called "FilterNet", they can understand your dog's actions. If she isn't feeling well, it advises the owner so preventative veterinary care may be given early, thereby, giving your dog her own "voice". Again, another plus for a happier dog.
Isn't their microchip enough?
While a microchip can locate your dog only after being found and taken to a vet so the chip can be scanned, a pet tracker will track their location in real-time. Microchips are still essential and must be used by law in most countries.
Imagine the battery goes dead on your tracker. Any dog must be microchipped as a matter of course. The pet tracker, on the other hand, will give you extra information like health and activity data and more. The microchip and the pet tracker work hand in hand in the very best interests of your pet.
Beagle Freedom Project
Since 2010, Whistle has worked and continues to do so, with this non-profit animal charity by rescuing animals used in scientific research experiments. 50% of profits help the BFP and other animal charities in RRR – Rescue, Rehabilitation, Repeat. I think this is fantastic and I wish more companies would do the same.
They help end cruelty and stop the abusive industries that take advantage of animals in their research through education and rehabilitation of the dogs, no matter their location nor condition. Big thumbs up here!!
Whistle x 3
You have the choice of three versions of this pet tracker. Here are the details: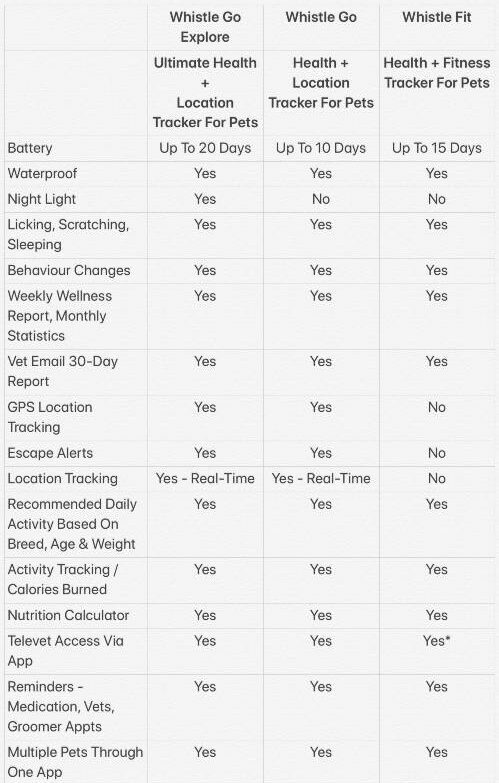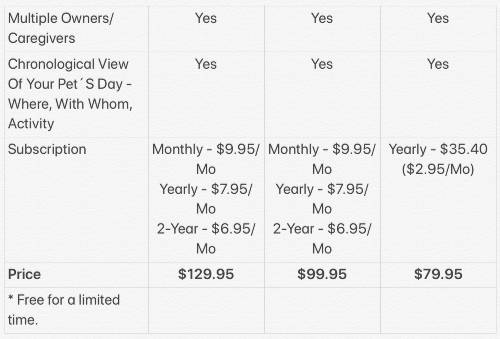 Whistle Go Explore
up to 20 days battery on a single charge
extended battery life
GPS tracking location in real-time
fitness
health
built-in light – 3 settings controlled from the app.
Whistle Go
up to 10 days battery on a single charge
GPS tracking location in real-time
fitness
health.
Whistle Fit
up to 15 days on a single charge
fitness
health
without the GPS tracking facility.
They come in various colours, and there is a superb selection of collars for you to choose from – what they call "Twist & Go" – plus other accessories. They are the perfect partner for this tracker. The collars come in small, medium and large sizes.
Subscription service
As with any smartphone you might buy, you have your initial cost of the phone and then you have your monthly bill which includes the data/calls you use with your phone. The same with this tracker.
You initially pay for the device, but this uses cellular data for the GPS location feature to work. So you then pay a subscription enabling the device to work correctly. This also includes the other services like alerts, monitoring of health and fitness, reports etc. There is no new phone contract to sign though, so that's good. There would be no point in buying a tracker if it didn't track, don't you agree?
Issues
There are some negatives to this device. Notably, it won't work if there is no cellular service. If you live in the middle of nowhere, this tracker won't be much use.
Also, you have a monthly subscription fee. Still, if you consider the cost of regular vet care, especially if you don't have pet insurance, then this cost could be a lot less. Personally, I'd rather have a fit and healthy dog. Knowing that any issues will be brought to light quickly and so avoiding an unhappy pup and possible pain for them is a more sensible choice for me. Better to be safe than sorry and as time goes on and new technology arrives, why not take advantage of the capabilities it provides us?
Peace of mind
Why this tracker is essential:
The device is waterproof
There are three models available with varying degrees of cost and function – something for everybody
Excellent after-sales customer service
Highly recommended by experts
The technology and science behind it has been thoroughly tried and tested
You gain a better understanding of your dog
You keep your dog healthier for longer
Different colours
Free shipping
1-year guarantee
You have 90 days' free trial.
GPS Pet Tracker Review – Whistle
The Whistle Go Explore would be the best choice because it has everything. It also has the light option (controlled from the phone app) and so your dog(s) is easier to find, especially if they are nightly escape artists.
Does your pet have a tracker? Which one do you recommend? Is there anything you would change about your tracker? Please let me know in the comments below. Thank you for reading. It´d be great if you please like and share this with your friends and family, thanks.