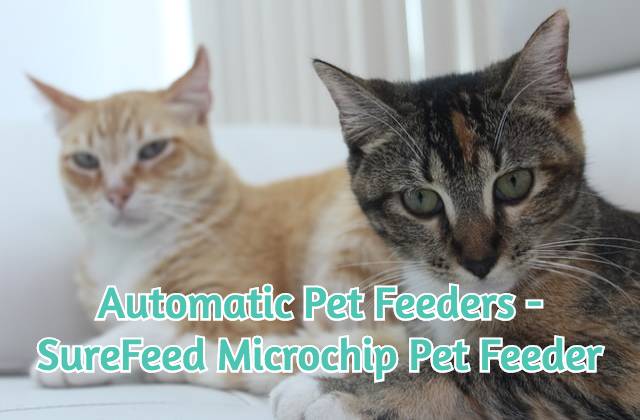 To continue on from my last post regarding Automatic Pet Feeders, SureFeed Sealed Food Bowl (found here), today, I´d now like to look at something if we decided to adopt another cat – the SureFeed Microchip Pet Feeder. I love animals so much that I know for a fact that we could never be without one in our home so I'm just looking to the future. There are so many animals looking for their forever homes. I´ve noted a few dogs here that are looking to be adopted. They will be eternally grateful and in my experience, adopted animals always seem to know that they´ve been rescued and will give you twice the love in return. If you are interested, drop me a note in the comments section below.
So… let´s get to it!
RELATED READING: Petcute Automatic Pet Feeder
As an Amazon Associate, I earn from qualifying purchases at no extra cost to you.
SureFeed Microchip Pet Feeder
Having more than one small pet in the house can be very tricky when it comes to feeding time and I think I would be more inclined to go for the SureFeed Microchip Pet Feeder. It has all the same great benefits as the SureFeed Sealed Pet Bowl, but it is adapted for multi-small pet homes.
Keep out!
Maybe you have two or more cats where one must eat prescription food and the other one always steals it. Or maybe one eats everything in one go and the other one is more of a grazer or must have their portions distributed throughout the day.
Advantages
Great for multi-cat families
Prevents smells, stealing, stress
Each bowl can be registered to each cat´s microchip number (works with 9, 10 and 15 digit microchip numbers – ask your vet if not sure)
Good for fussy, messy and grazing cats
Includes training program
6-month battery life
Different accessory bowls available.
Disadvantages
Expensive (but worth it)
Slightly deeper bowls would be better. Currently, they take 400ml or 2 pouches wet food
Some cats are still so persistent that they will fool the mechanisms of the bowl and get around the sides while the registered animal is eating, in order to steal. This is solved by placing the bowl in a narrow space where a second animal cannot access the sides when it is open.
The dimensions of the SureFeed Microchip Pet Feeder are 21 x 32 x 15 cm. It weighs 2.2 pounds and it takes 4xC batteries. I'm already sold on this product! The day we adopt another fluffy or two into our home, this will be the bowl for us, or them should I say. It's a no-brainer for us. You can get this bowl from Amazon where you can find further details on this great product.
Automatic Pet Feeders – SureFeed Microchip Pet Feeder
I hope you found this review helpful. Do you use one of these bowls or can you recommend an alternative? Thanks for sharing any comments you may have below and if you have any questions, please feel free to ask. ?
RELATED READING: SureFeed Sealed Food Bowl
* Prices shown exclude delivery charges and prices are correct as at publish date. The reviews above are my own and by no way constitute any responsibility if you decide to buy.