Bungeeeeeeee!!!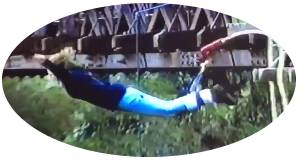 Many years ago, whilst travelling in New Zealand, I had the opportunity to do a bungee jump from a bridge over a river in Queenstown on the South Island. There was a group of us – fellow backpackers I'd met along the way – and I guess I was egged on to do it although I had the wish to do it, the others just gave me that extra push I needed. I remember the wait to walk out on to the bridge seemed to last a very long time and my nerves were really going into overdrive. Then my turn came and as I edged out onto the edge of the platform that overhung from the bridge, all I can remember is laughing hysterically like a mad woman. I think I'd lost all sense of control by that stage and was just totally living in the moment. 3 2 1 bun-geeeeeee and as I flew out from the bridge, I could hear the crowd of people cheering me on from above as I screamed my way down towards the water. Just before getting my head wet, the bungee cord did its job and launched me skyward again, meanwhile, I just screamed uncontrollably but not out of fear this time. I was enjoying it so much. What a sense of freedom and just pure adrenaline. Eventually, a boat came out to collect me into a curled up, laughing mess in the bottom of it. I only recently found the video of this event after many years of searching for it. I must have been mad but I'm so glad I can look back on this memory and laugh at it. It was fantastic. Now, today I want to talk about the bungee cord dog leash, hence why the trip down memory lane (sorry about that).
I never thought that a bungee cord could be used as a practical means of keeping control of your dog while out walking but then thinking about it, it's a great idea if both dog and human are trained and in control. I would definitely hope that the bungee cord would NOT be used by unscrupulous people with an animal in its original format!! Never!!
Different bungee cord leashes are appropriate for different weights of dog. They also come in various lengths according to their end purpose whether it be puppy training or a simple walkies etc.
The bungee cord system prevents shock to the body of both dog and human. Any sudden surprises are softened by the elastic and avoid the pressure which can sometimes be felt when using a regular leash. By the same token, these leads could give relief to those who feel pain in their joints – elbows, shoulders, back – when their doggie pulls at the sight of a cat or an empty crisp packet ?.
Well, here is a selection of those found online:
This lead comes in a range of colours – black, gray, brown coyote, camouflage (MCP), Ranger green. Its adjustable length means it can be used for more or less control according to the situation. To adjust the length, you use the metal buckle and attach it higher up or lower down the lead. It is hard wearing but lightweight and comes with a quick release metal buckle. Ideal for training as it has two handles. One is softly padded close to the dog for easier control. The other is for control while walking. The bungee cord expands approximately 12 inches – this much stretch could reduce risk of injury. Suitable for small, medium and large dogs. Check it out on Amazon.
Medium Price Range
Although branded as being ideal for police, security forces, rescue, general working dogs, this is a lead which will work perfectly well with all dogs. It is compact and lightweight, comfortable for both dog and owner. Click here for more details.
This lead gives me the impression that it can handle quite a lot of pulling. It has a tough-look and seems to be of a very high quality and well-made. This is reflected in the high rating on Amazon. Comes in various colours – black, orange and red. Well suited for running, it has reflective stitching, a padded foam handle and a D-ring for added accessories like poo-bag container or portable water container for doggie when out running.
Low Price Range
Especially like that this lead has a seat belt buckle included so when you go in the car, it's super easy to secure your dog. Such a smart idea. Adjustable length too so you can shorter in the car while allowing your dog to sit or lay down comfortably or longer in the park. The bungee cord reflects surprise pulls and is made from good quality materials. For such a reasonable price, this product has a high rating on Amazon.
The Bungee Cord Dog Leash
Such a great invention and not at all expensive, these leads seem to provide all the comfort that you both would want when going out for a walk. Some are straight forward bungee cords while others enable the user to adjust the length or attach accessories. Others are better for running or training. The choice is your's!
Do you use a bungee cord leash? If so, which one would you recommend? Do you think they are a good or a bad idea? Let me know your thoughts. Thanks.

Review of retractable style dog leashes found here.
* Prices shown exclude delivery charges and prices are correct as at publish date. The reviews above are my own and by no way constitute any responsibility if you decide to buy. This page contains affiliate links to support the work on this site. Thank you.