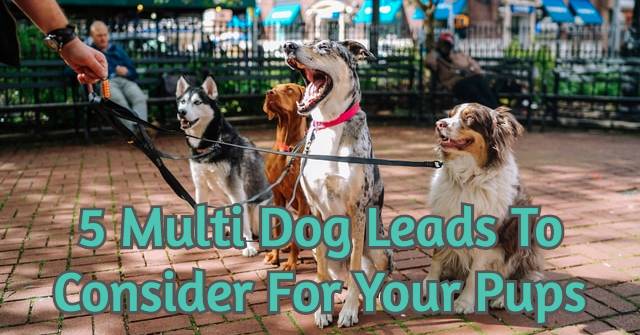 When I was in New York, quite often I would see a dog walker completely encircled by a huge pack of dogs as they pulled this way and that, all vying for the front of the pack and the lead, no doubt on their way to the park. Some carried single dog leads whilst others I noticed used multi dog leads, more sensible I thought. Taking more than two dogs out on single leads could lead to disaster.
As an Amazon Associate, I might earn from qualifying purchases at no extra cost to you.
It fascinated me how people could control so many dogs at one time. Didn't it occur to them that they could split the group up and go a few times to the park with fewer dogs each time? Or did they want to get the walk "over and done with"? Maybe they came from doggie daycare and that was the time for walkies no matter how many dogs there were.
Use Code: FATHER- The Animal Rescue Site
It must be so difficult to control such a large number of dogs. I think the largest group I've taken out was four dogs and that was enough. I mean, what if there was a cat. The whole pack would be off like a rocket, dragging the dog-walker along behind. There's also the question of how to pick-up each dog's excrement. If you have too many dogs with you, it would be nigh on impossible and we always have to clean up after our dogs as responsible owners.
As well, it is very important when out on a walk to give each dog the attention it needs. Encouragement and positive vibes go a long way to building trust out on the street and in the park. How can you do that with a large number of dogs on the lead(s)?
Shop our collection of dog themed products to help shelter animal. Purchases Fund at Least 14 Bowls of Food to Animals in Need!
To this end, I'm going to share with you some multi dog leads that have won high praises from their users and hope this review might help you decide on the best multi dog lead for your pack of woofies.
Pet Dreamland Hands Free Double Dog Leash – No Tangle Dog Leashes for Large Dogs – Heavy Duty Waist Coupler Bungee Lead
Item weight 1.30 Pounds
First off, I like the sturdy appearance of this lead. It looks like it would be strong enough to support the wear and tear of two dogs (35-150lbs). As well as being a multi dog lead, it also encompasses the bungee-type leash that I reviewed here. This is a bonus because this will soften any sudden pulling for both the dog's neck and owner. Nobody likes a choking dog, especially the dog.
It is a hands-free leash – it has a belt which goes around the waist and when you need to slow your dogs down, you can use the padded handle to bring them to heel. The advantage of a waist belt is that you will prevent potential wrist or shoulder injuries and you can obviously be hands-free! And if you have existing medical conditions in your joints, arms, shoulders, then a multi dog lead with a waist belt is the perfect solution for you, especially if you're active too – a jogger, parent with a pram, hiker etc.
This multi dog lead doesn't get you in a tangle. It has 360º swivel action where the lead divides in two. The dogs can walk around each other without getting tied up with you in the process. You can also adjust the length of each using the extra metal ring if required.
In addition to the padded handle near the waist, you can also adjust individual dogs as each lead split has its own handle as well.
The carabiner is heavy-duty, not the normal type. You can choose different colours: Khaki and orange, black and red, dark grey and pink or black and green. There is reflective stitching on both sides of the lead for walks in low light.
What I love about this multi dog lead is the story behind it. The co-founder designed the lead after rescuing a beautiful retriever from a shelter and finding it hard to walk together with his other dog, he designed this lead. You can read the full story and get this multi dog lead here.
DCbark Tangle Free Double Dog Leash, No Tangle Adjustable Length Lead with Comfortable Padded Handle for 2 Dogs
For two medium dogs.
Item weight 6.4 Ounces
On first impression, this multi dog lead looks fairly decent. The (1 metre/40in, 3/4in wide) lead is flat throughout (no bungee here) and looks like it wouldn't be suitable for large dogs.
This lead has the swivel action piece again to avoid dogs getting tangled up. It has the "normal" type padded handle you find on any regular dog lead, with a splitter which hooks on at the end.
Each divided lead is adjustable in length (11-20in) so if you need one dog to stay closer to you while the other one can have longer range, then this is possible. Good for if she's in season, keep her close to you.
The nylon material is durable and weather-proof. Some say that the divided sections are a little short but if your dogs are small mediums, then this would be a good multi dog lead for you. Find it here.
OxyPlay Heavy Duty Tangle Free 3/Three Way Dog Coupler Leash with Padded Handle, Reflective Triple Braid Split Lease Pet Leash for Walking 3/2/1 Medium Large Dogs Training(Black)
For up to three medium to large dogs.
Item weight 10.6 Ounces
This looks like a regular lead with 3 separate leads added to the end of the 37in long main lead. The handle is made from foam cotton for comfort.
Each division of the lead can be extended from 21 to 34in. Again, we can see the 360º swivel action so you or your dogs shouldn't get all twisted, although some have said that they still got tangled, initially anyway. You can also detach extra leads if not needed so one isn't left banging against the next dog.
If you have a puppy, take care because they might chew through the material of this lead but if your dog is mature/not a chewer, that shouldn't be an issue as this is a durable lead and comes with a one-year guarantee.
Walking three dogs at the same time can be a challenge and you and your dogs may have to take time getting used to this lead. However, if everyone "co-operates" well, then this could be the start of some magical walkies all together. Find it here.
Hankyky Dog Double Leash Pet Multi Ways No Tangle Leash for Dog Walking Tracks with 2/3/4/5 Elastic Dogs Straps Splitter
For small and medium dogs.
Item weight 12.6 Ounces
Broken down, this is a normal dog lead with five extension leads added to it via five clasps attached to the ring at the bottom of the main lead. At this point, there is the no-tangle swivel piece which they say won't let 2 dogs get entangled. Now if you actually have 5 dogs, that could be a different story but one to try maybe.
The handle is made from a foam-like material which will protect your hand and you can adjust the lengths of the splitter leads by adjusting the buckles but honestly, I find that difficult to see myself.
Heavy-duty and hard-wearing material makes this lead ideal, however, the clasps look a little on the weak side and I'm not sure I'd trust it with 5 medium/large dogs, especially if they pull a lot but with smaller dogs ok. You can find this lead here.
Prima Pets No Tangle Reflective Adjustable Double Dog Coupler – Each Side Adjusts 11″ to 20″ in Length – Walk 2 Dogs with Ease!
For mini and small dogs.
Item weight 3.20 Ounces
I'd recommend this coupler for use with mini and small dogs. You can just attach it using the O-ring to the regular lead you already have and immediately, you have a multi dog lead for two small dogs.
It is bright and adjustable – each division extends from 11 to 20in.
There is reflective stitching on either side of the lead for walking at night and it is made from high-quality material, durable and weather-proof.
Although the clasps which attach to the dogs' collars do have swivel action, if they change position, you will need to unravel them.
You can also find this product available for medium and large dogs too. However, I would recommend a multi dog lead more fit for purpose to support the weight and strength of larger dogs, particularly to include the bungee style lead.
You can find this coupler for small dogs here.
5 Multi Dog Leads To Consider For Your Pups
These leads have some very good qualities and others, not so. If I was looking, I would go with the Pet Dreamland Hands Free Double Dog Leash because an actual dog owner designed this lead with his own experience in mind and I can't see that behind any of the others. I like the bungee not only on the main lead but also on the splitters and the waist belt so I'd be hands-free.
Thinking back to the large groups of dogs I saw in New York, I suppose the dog walkers just kept adding additional couplers to the main lead to cater for the dogs needing a walk. However, I wonder if they considered the maximum weight and strength that an individual lead can support before adding extra dogs to it.
How many dogs do you have? Do you already use a multi dog lead? How has your experience of them been until now? I look forward to reading your comments below. Please like and share with your friends. Thank you for reading.